The Address Siam-Ratchathewi is a freehold condominium developed by AP (Thailand) Public Company Limited. The Address Siam-Ratchathewi is located 160 metres from Ratchathewi BTS Station. According to Google Maps, the walk is about 2 minutes.
Project Details
Project Location: 111 Phetchaburi Rd, Khwaeng Thanon Phetchaburi, Ratchathewi, Bangkok 10400, Thailand
Project Area: 3-1-55 Rai
Number of Residential Units:
880 residential units, 1 shop
499 Cars (51%) Excluded Double Parking
1 Bedroom, 1 Bedroom Duplex, 2 Bedroom, 2 Bedroom Duplex, 3 Bedroom
Living Area:
31 – 86 Sq.m.
This is the location of The Address Siam-Ratchathewi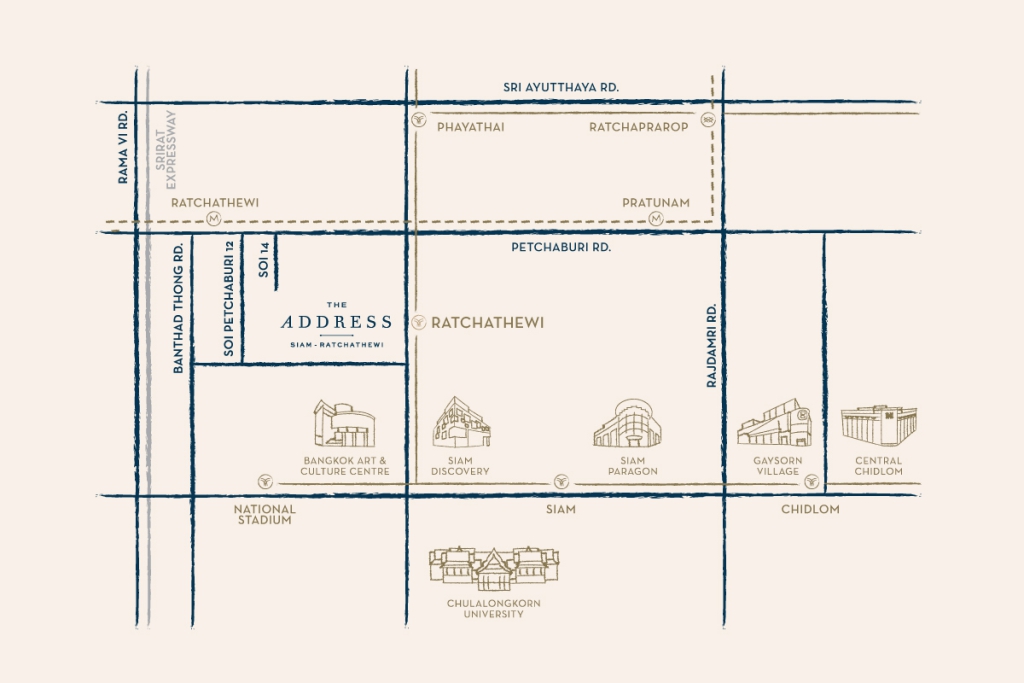 Our review of The Address Siam-Ratchathewi (Scores are upon 5 ⭐s)
Location ⭐⭐⭐⭐⭐:
This is the nearest development to Ratchathewi BTS Station which is one station away from Siam BTS down south or one station away from Phayathai BTS up south. Siam BTS is where Siam Paragon is located. This area should be very familiar to you if you have been to Bangkok as a tourist. Phayathai BTS links to the Airport Rail Link which leads to Suvarnabhumi Airport. The connectivity of The Address Siam-Ratchathewi is excellent. You probably cannot get a property with a better location. Perhaps the only minor downside is that the walk to the development is not sheltered. However, that is a really minor point and I am actually nitpicking. Do note that because of the location, the prices for units in this development are also much higher.
Quality ⭐⭐⭐⭐:
AP Thailand is a very reputable developer. They are listed on the Stock Exchange of Thailand. We have dealt with AP Thailand for many years and their developments do deliver. The Address Siam-Ratchathewi is a very high-end luxurious development. This is indicative of our observation of the development as a whole. Also, this series, The Address, is AP Thailand's high-end luxurious series. However, the disappointing thing about what we observed from the specifications would be that the finishing in the units itself does not match up.
Conclusion ⭐⭐⭐⭐:
The developer profile and the location are huge draws. The only issue would be the finishing and the provided furniture package and appliances. The price is also much higher than other developments in the area. However, the location is an extremely huge draw. We have walked the ground on a few previous occasions. This is a very prime location.
Visit The Address Siam-Ratchathewi website at theaddresssiamratchathewi.com for more information about the project.
Related articles:
The good locations for property investment in Bangkok (2023 update)