Aspire Onnut Station is a freehold condominium developed by AP (Thailand) Public Company Limited. Aspire Onnut Station is located close to BTS Onnut.
Project Details
Project Location: Sukhumvit Road, Phra Khanong, Khlong Toei, Bangkok 10110
Project Area: 2-3-79.5 Rai
Project Description:
1 Residential Building, 37 storeys and Rooftop Garden
1 Car Park Building, 8 storeys and Rooftop Garden
Number of Residential Units:
696 residential units, 1 shop (ownership belongs to AP ME 18 Co., Ltd)
1 bed: 27.00-32.00 sq m
1 bed plus: 35.00 sq m
2 bed 2 bath: 53 sq m
This is the location of Aspire Onnut Station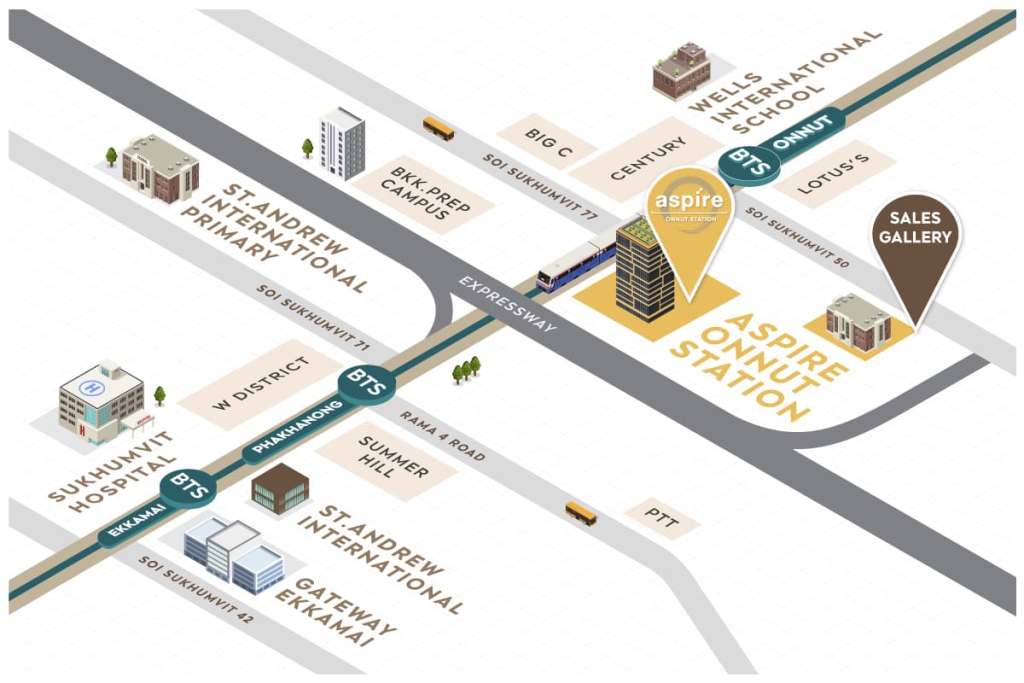 Our review of Aspire Onnut Station (Scores are upon 5 ⭐s)
Location ⭐⭐⭐⭐:
The location is extremely prime. It is located very close to BTS Onnut (about 200 meters). The area around this area is generally more residential with a good mix of locals and foreigners. There is a huge Tesco located next to the BTS Station. Century the movie plaza is also located about 350 metres away from Aspire Onnut Station. BTS Onnut is only a few stations away from the more upmarket areas like Thong Lor and Ekkamai. While the prices in this area for rent are lower, the pricing of condominiums is also lower. Therefore, the rental yield is still healthy for a lower capital outlay if you are looking for condominiums in this area. Taking the BTS down to Samrong or further up to Asoke will link residents in this area to the new Yellow Line and the Blue MRT Line.
There are many international schools with very good reputation in this area. Most notably, Bangkok Prep School is a mere 1.9 km away from Aspire Onnut Station. This is a huge draw for expatriates who are in Bangkok with their families. Bangkok Prep School is one of the top international schools in Bangkok.
Quality ⭐⭐⭐⭐:
AP Thailand is a very reputable developer. They are listed on the Stock Exchange of Thailand. Based on the sales gallery, the layout of the rooms and the design of the development is very reminiscent of typical AP Thai projects. A single building with facilities on the top floors of the development. From past experience, projects from AP Thailand are also very well done with minimal defects upon handover. If you are looking for a project that will deliver on what was promised, you should look at projects from AP Thailand. This is not a high-end development in the super luxury category and hence the finishing is not what you would expect from such luxury developments in Chidlom or Ploenchit.
Conclusion ⭐⭐⭐⭐:
The developer profile and the location are huge draws and we highly recommend this development.
Visit the Aspire Onnut Station website at aspireonnutstation.com for more information about the project. 
Related articles:
The good locations for property investment in Bangkok (2023 update)