What makes a property investment great?
Simply put, the property has got to give good rental yield and the potential to generate better than average capital appreciation.
For you to achieve that, you ought to get 3 things right. The right location, the right property, and the right timing.
And in The Line Sathorn by Sansiri, you will be able to find all these 3 conditions.
The Right Location
There are countless articles about the pros of investing in Thailand, Bangkok. If you are just starting to explore, here's an article that can get you started: A Compelling Case To Invest In Bangkok
Within Bangkok, there are several good locations for investment in Bangkok properties. Each area does have its own merits.
However, if your budget allows, investing in Bangkok's central business district should always be your priority.
The reasoning is simple. Firstly, good land plots in CBD for redevelopment are limited in supply. This, in turn, leads to the ever-increasing land price in the area. It is never a bad idea to own a freehold real estate in an area where supply is limited and the price is on the uptrend.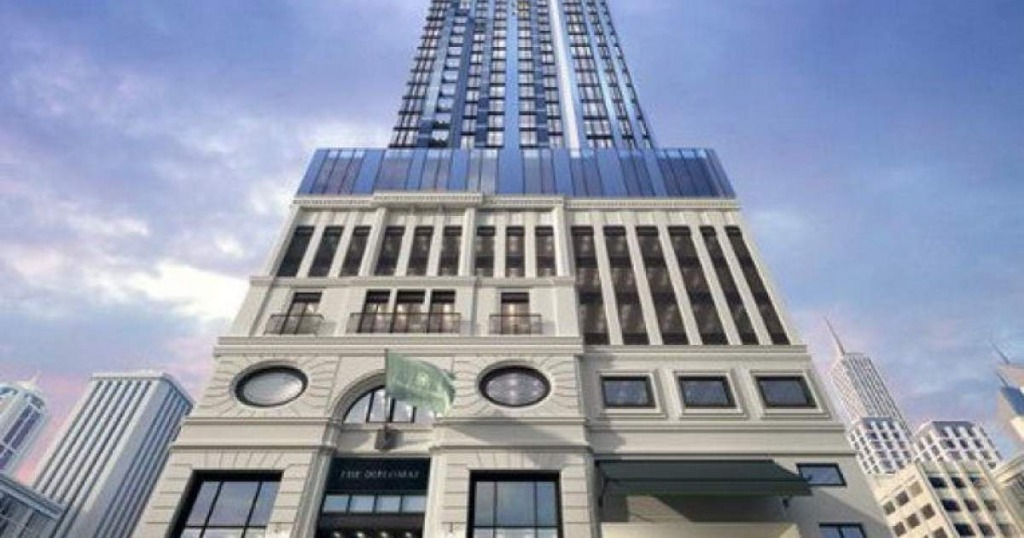 Launched in 2013, The Diplomat Sathorn which is situated right beside The Line Sathorn has saw an annualized gain of 7.27% per annum. With an average entry price of 200,000 Bhat / psm, investors are now able to sell at around 250,000 Bhat / psm. 
Secondly, investors always like to ask me this million dollar question: "Kevin, who can I rent the property to?"
From my years in the real estate industry, I can share with you it's never just about the promised yield. What's the point of being promised high yield when it takes 6 months to find a tenant?
You should also take into account the demand (aka turn over to find a tenant) as well as the quality of your tenant pool.
The CBD is where all your grade A offices are, where most of your middle to C level executives work. We all know how bad the Bangkok traffic is. For them, it is always desirable to be able to stay not too far from their workplace. Same for Bangkok, same for any major cities in the world.
You as a landlord would also want to be dealing with high-quality tenants as they will be the ones who can afford to pay a premium to rent your property.
Thirdly, you will be happy to know that prime CBD properties in Bangkok are still able to fetch you a good rental yield at about 5%!
The Right Property
The Line Sathorn – Simplicity In Everything. This tagline conveys the idea that the superior location + Sansiri's smart home technology gives you the ultimate convenience and the ease to do everything comfortably.
The Line series is a joint venture between public listed luxury developer Sansiri and BTS group. The ultimate selling point of every development under The Line series is that they are right next to a BTS station. Nowadays in Bangkok, the premium attached to a development is greatly determined by the proximity to the BTS or MRT station.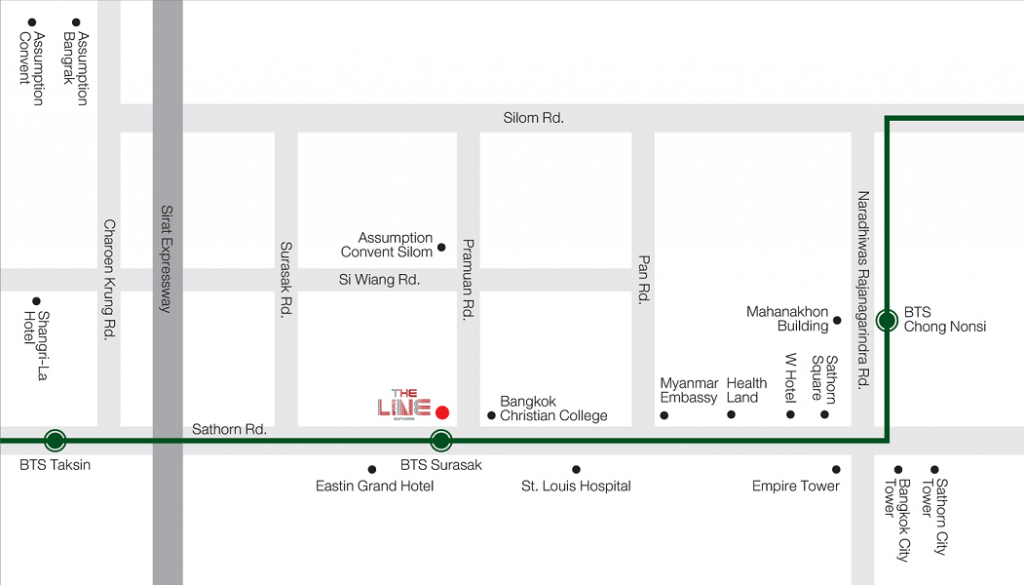 The Line Sathorn is right next to Surasak BTS on Sathorn Road. 0 meters to BTS means you will always get to your destination on time rain or shine. Sathon Road is lined with skyscrapers and corporate offices, especially banking and finance related. Thai and International banks such as SMBC and Citicorp have their headquarters located along Sathon Road.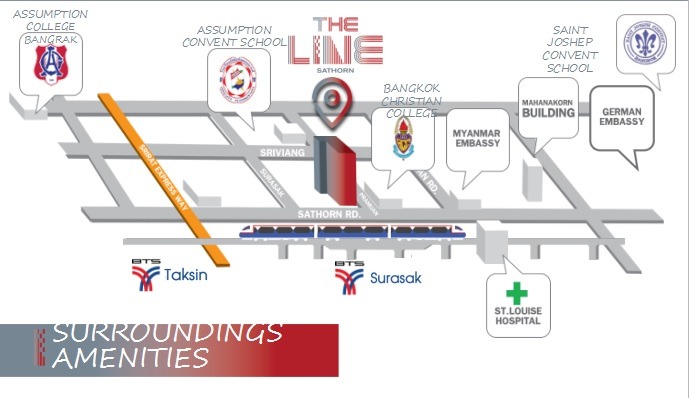 No lack of amenities.
Nestled amongst 5-star luxury hotels.
Surrounded by multi-national corporations.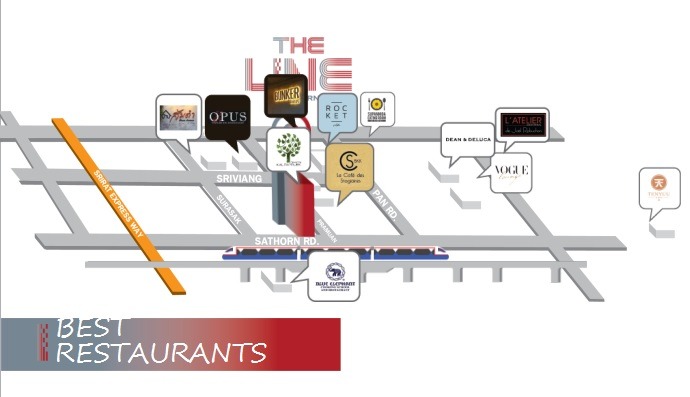 All the swanky restaurants within your reach.
Lifestyle conveniences at your doorstep.
And you are just 4 Skytrain stops away from Siam, Bangkok's famous shopping belt! Shop, wine. dine and party to your heart's content.
The Line Sathorn is made up of 46 stories with only 9 residential units on each level. Made up of 1 bedroom and 2 bedrooms units. Every unit faces the east where you get a unblock view of the famous Bangkok city skyline.
Unblocked because next to the development is a school with a field. 1 less headache for the investor who has to be torn between which facing he has to choose. (Sorry to the residents of Diplomat, who will be blocked)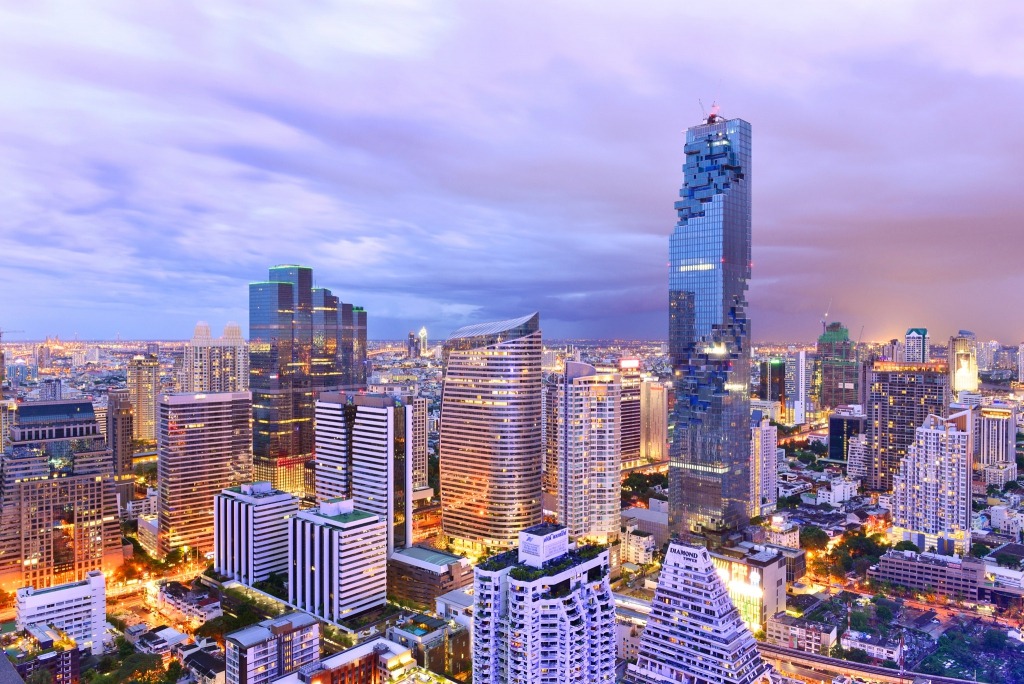 This is what you will be getting when you come home every day. An awesome view that takes your breath away.
The Right Timing
There has been no better time to enter Thailand's property market. The trend is in your favor.
The affluent Thais, who used to prefer staying in mansions outside the city are now wanting to move back into central Bangkok. They want access to the best restaurants, lifestyle amenities, and hospitals. Thailand is also fast becoming a major property market among international investors.
I can personally attest to that, based on the high number of enquiries I have been receiving from overseas investors, especially from Hongkong and China.  
Thailand has all the same favorable fundamentals as other major real estate markets around the world –  the geographic location as the gateway to Asean, the readiness of transportation infrastructure for both living and investment in diversified industries as well as the high number of real estate on offer in the market. More importantly, Thai property law has provisions that allow foreigners to buy and own freehold land. Bangkok is also the capital with highest demand and supply for real estate among major cities in the Asean region
According to www.globalpropertyguide.com, property prices in the world's top real estate markets like the US, UK, as well as in Asia, e.g., Singapore, Japan, Taiwan and Hong Kong, are far more expensive than in Thailand, from 2 to 6 times. Therefore, real estate investment in Thailand offers a higher return.
The high–end segment possesses even higher prospects, with growing demand and price aligned with the country's advancing economic competitiveness. 
Many Will Be Disappointed 
The Line Sathorn will be launching worldwide on 4th November. News from official sources indicates that the interests in this property are already 2x oversubscribed.
There are only 327 units available. Not enough to satisfy the 500+ interests collected.
Sansiri will be allocating only about 40 units (subject to change) to international investors. First come first serve basis. So act fast while stocks last!
Pre-booking has started. To find out more about The Line Sathorn, please visit the developer sales website. Download the brochure and price or book an appointment to find out more.