A short snippet about myself…
I am the international sales director for IBP Real Estate Co., Ltd. I focus mainly on the sale of primary properties, i.e., new developments from developers to international clients. My main areas of focus are clients from China, Hong Kong, Japan, Korea, Indonesia and Malaysia.
I come from Singapore. I graduated from the National University of Singapore with a bachelor's degree in economics. I have always enjoyed how money markets and various asset classes move and I enjoy reading and analysing statistics. I have been in the Bangkok property market since 2013. I deal with buying, selling and renting of properties in Bangkok. My entering into the Bangkok property market was one of chance. I was working for a Singapore developer who invested in a few projects in Bangkok. I was running the sales and marketing of these projects. Eventually, when my company ceased to be involved in the Bangkok property market, I remained in the market as many clients had purchased their properties through me. My good friend Kevin and I decided to start the Invest Bangkok Property YouTube Channel, Facebook Group and Facebook pages. One thing led to another and we eventually ended up incorporating a company in Thailand to deal with the sale, purchase and rental of Bangkok properties.
I have a corporate secretarial company which I own and run in Singapore. We deal with the setting up and running of companies in Singapore. We are also a licenced employment agency with the Ministry of Manpower in Singapore. It is hectic running the businesses in two different countries. While my colleagues in IBP Real Estate Co., Ltd. are based in Bangkok, I shuttle back and forth between Bangkok and Singapore. It is incredibly tiring but extremely rewarding to see the businesses grow.
In my spare time, I like to go to the gym, swim, cycle, read and play computer games. I am a very health-conscious person and have been a vegetarian for about 4 years.
You can find me on the following social media platforms:
LinkedIn: https://www.linkedin.com/in/daryllum/
Facebook: https://www.facebook.com/lumdaryl/
Personal Blog: https://daryllum.com/
(Do drop me a message on LINE or WhatsApp if you are adding me on social media. I do not often check my social media platforms for messages and I do get a lot of spam requests whenever I do check. I left my contact below.)
Your favourite neighbourhood in Bangkok?
Thonglor. I like the local vibe as well as the large number of cafes in the area. I enjoy café hopping. There is also a very vibrant nightlife and many top restaurants and bars are littered around the Thonglor area. For some reason, the general layout of the area seems more welcoming. I like to have my meals around the Commons or 72 Courtyard. I do not take alcohol so I am perhaps not the best person to ask which are the best bars to patronise. However, I am a huge football fan. There are many places in Thonglor to sit down, have a nice meal and catch the latest football game.
This is a lovely place for live music and live football matches. The food is also decently good and reasonably priced. It is located next to 72 Courtyard.
I just like the way The Commons is built. For some reason, I just feel that this is a nice place to come to in the late afternoons when the sun is setting. You can sit at any of the benches and do your work. When I am in Bangkok working remotely seems more plausible. This is due to the large availability of open spaces as well as the general culture that is supported by such malls. You can buy a coffee and, space permitting, work on your laptop for a few hours in a cafe. Of course, when the crowd comes in, the considerate thing to do would be to give up your table to guests who are there to dine.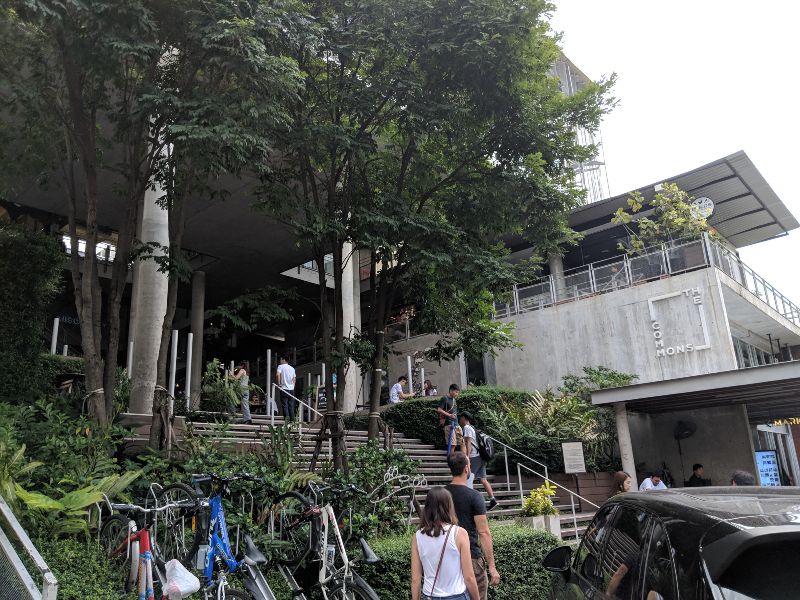 Your favourite Thai food?
Vegetarian Pad Thai. I am a vegetarian but I love Pad Thai. In fact, even if there is no vegetarian option, I would ask the chef to remove the meat in the dish or I will just remove it when it is served to me. I think one of the best Pad Thais in Bangkok is served at the original Thipsamai restaurant (This is the outlet close to another popular eatery, Jay Fai). The other Thipsamai outlets like the one in Icon Siam do not have the same taste as the authentic Thipsamai outlet.
Perhaps a close second would be Bingsu. I know this is not Thai food per se but I think it is customary for everyone who visits Bangkok to sample the large array of Bingsu outlets in Bangkok. The king of all Bingsus in my opinion would be the one at the After You dessert cafes. Anyone who knows me knows that I am not a person with a sweet tooth. I do not eat desserts except when I am in Bangkok. For some reason, the Thais have gotten desserts mastered. Even just a simple dessert like mango sticky rice is done right only in Thailand.
This is the durian Bingsu at After You Cafe. I believe you can only find this option at the After You Cafe outlets in the Siam and Chidlom areas.
What is your favourite thing to do in Bangkok?
Café hopping. I am into smoothies and acai bowls. It is not only relatively more affordable in Bangkok as compared to my home country Singapore, but the variety and quality on offer are also much higher.
One of my favourite cafes to have an acai bowl is Broccoli Revolution which is located in the middle of Thong Lor and Phrom Phong BTS stations. If I am in the Siam/ Chidlom area, I will get my acai fix at MAKAI Acai & Superfood Bar at Central World Chidlom.
The best part is that just about every bowl looks so good! This is from Mom and Sis Smoothie Cafe in Thonglor.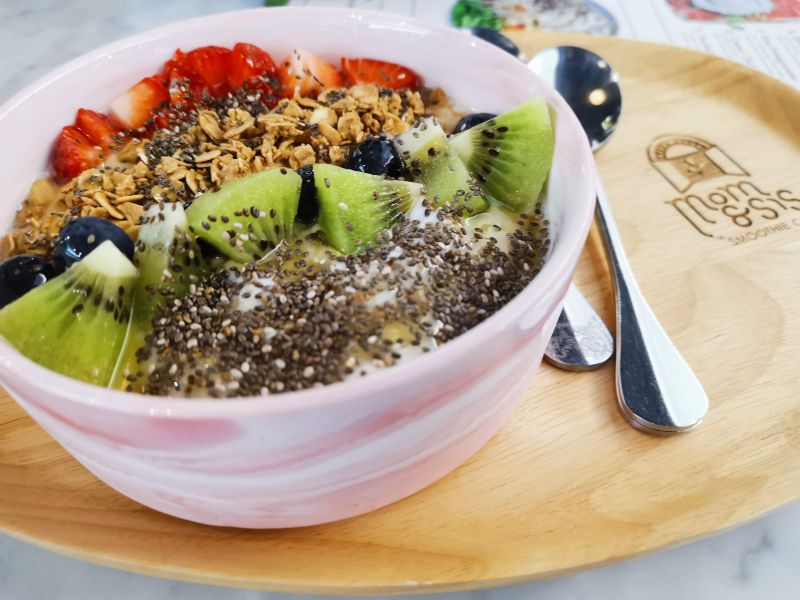 This is my kind of food…
If you were to retire in Thailand, you would live in…
Thonglor and Ekkamai. It might be a little more expensive. However, it is a very livable area in terms of amenities and accessibility. There are many supermarkets, namely Top and Big C supermarkets, to purchase quality groceries. Thonglor and Ekkamai are also easily accessible to the main shopping belt in Siam, Chidlom and lower Sukhumvit. If I can find a nice property along Soi 55 or 63 would be ideal. These two streets are wider and hence walking along these streets would be more pleasant. There are also more amenities along wider streets.
I would also consider the Ploenchit area. I just like the connectivity and the fact that I can get to the Silom area and Lumphini Park easily via Wireless Road. The reason why this is not my first choice is because of the severe congestion that occurs on a daily basis in this area. It is incredibly frustrating to travel in and out of the area.
While my choices are mainly located in the touristy areas of Bangkok, there is a good reason for my choice. For starters, I do think that despite the higher prices in the area, the fact is I want to live like an expatriate when I retire in Bangkok. Lower Sukhumvit and Chidlom are where all the best malls are located. The prices are still lower than in my home country Singapore. Moreover, top hospitals like Bumrungrad are located in this area. Accessibility is a huge draw and I value the area around Siam and Asoke BTS very highly due to their connectivity options. It is the interchange of the to main arterial BTS lines and the BTS and MRT lines. I would assume that driving would not be a viable option within Bangkok as compared to out of Bangkok and hence accessibility via the train lines should be a major consideration.
I do not think that Bangkok has been given enough credit for being a family-friendly place. While this is true for very central Bangkok, one should not veer too far off the beaten path. Crowded as it may be, there are always places where families can sit down and feel safe in downtown Bangkok.
Here is a photo of my wife, younger daughter and I took with my cousin and her family. We were having lunch at Siam Central.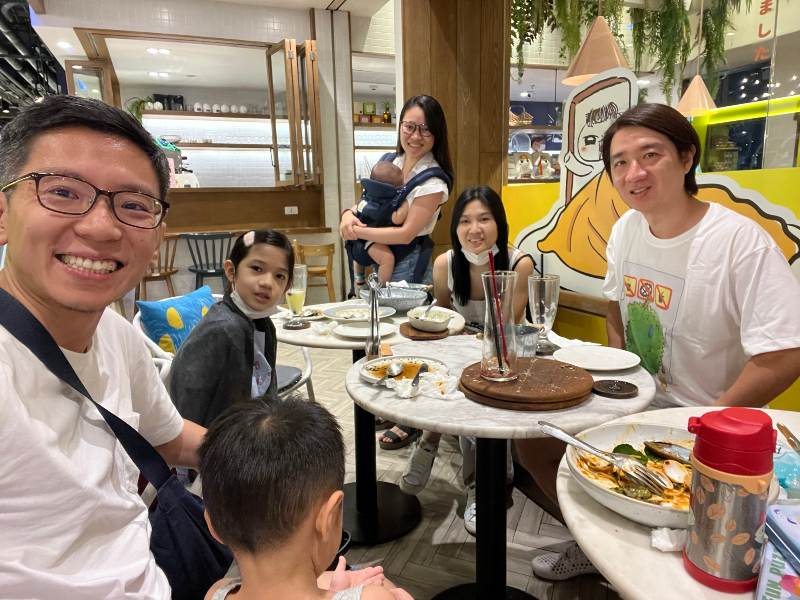 I do think that an area worth considering is the Lad Phrao area. While that is also popular among many who are looking to live long-term in Bangkok, I will still gravitate towards Thonglor and Ekkamai.
In conclusion…
Bangkok is a very vibrant city. I love the diversity and the general acceptance of people from different cultures and races. I come from Singapore which is in essence also a melting pot of different races, religions and cultures. The ability to assimilate people from different backgrounds and to blend all the various cultures together is not something that is easily achieved. Bangkok has done it to a large extent and it is reflected in the fact that you can get food and goods from all over the world in Bangkok.
This is a photo of my team from Singapore during our company trip to Bangkok. We were at the Paris Miki close to Terminal 21 Asoke.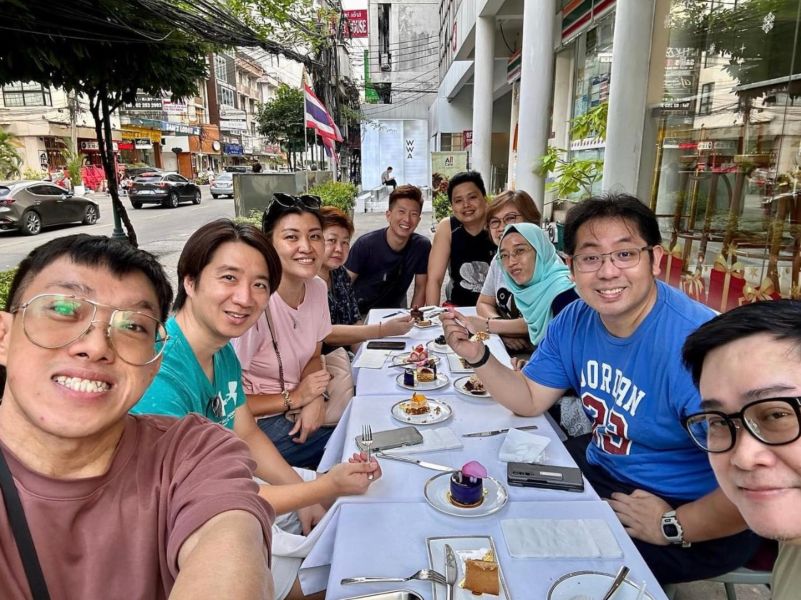 Is Bangkok the best place to invest property? That is up to you to make the decision. There is never a best place to invest. It is all up to one's comfort level. Overseas property investing is not only based on numbers and statistics but includes a certain level of emotional attachment to the city. I have had people coming up to me asking me why I have not bought properties in other countries. My answer to them is usually that I have yet to find an overseas city in which I am as comfortable as compared to Bangkok.
If you are looking to buy, sell, rent or invest in Bangkok properties, I am but a phone call or message away. You can always drop me a call or message me on LINE or WhatsApp at +66 66 112 8862.
Yours sincerely,
Daryl