Yet again, another masterpiece in the making by renowned listed luxury developer Sansiri.
Drawing inspiration from lofty mountains, glorious breezes, and rays of sunshine, oka Haus is a 47-floor condominium residence that rises tall to bestow upon you a glorious view of the Chao Phraya River. As their theme suggests, oka Haus would be your sanctuary to retreat from the hustle and bustle of the city to relax your body, and rejuvenate your mind and reinvigorate your soul.
How would you like to come home to a view like this?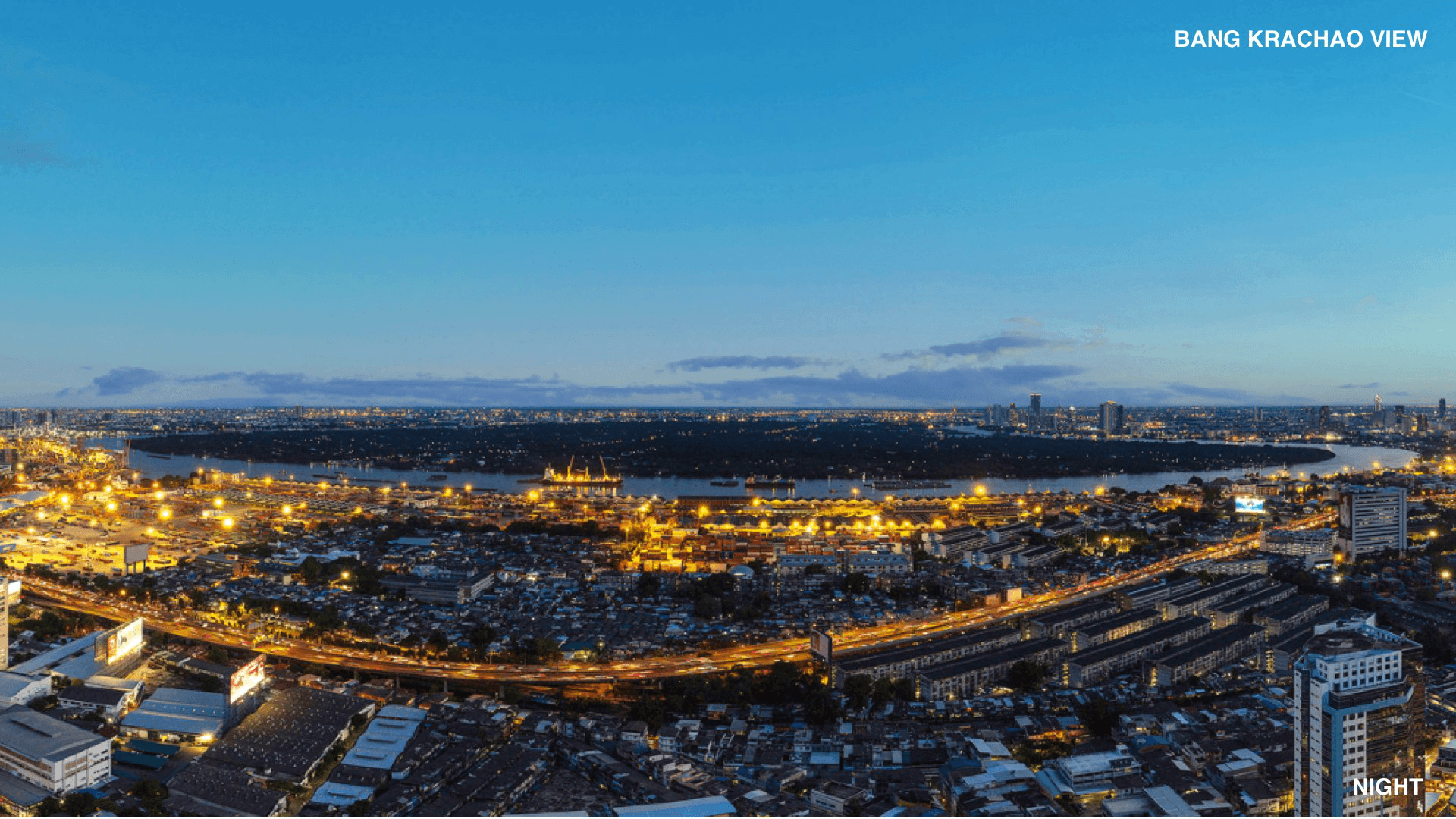 or play host to your friends on the rooftop while soaking in the B-E-A-U-T-I-F-U-L Bangkok city skyline?
If you like what you are seeing so far, read on as I give you the low-down on this wonderful development.
Project Summary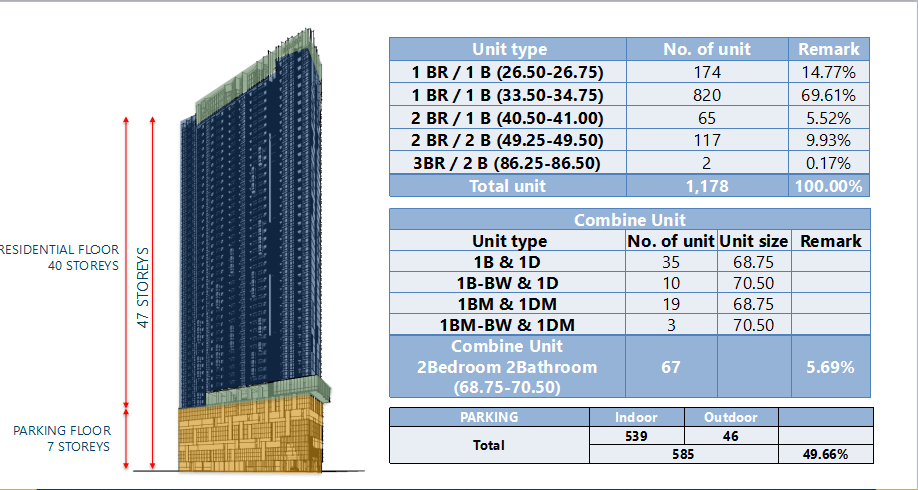 This is the very first Haus that is a high rise. Previous projects such as Mori HAUS and taka HAUS are low rise, low-density developments.
oka HAUS is a freehold development and is slated to be completed in the year 2021.
The Location And Accessibility 
While the development is named oka Haus Sukhumvit 36.  oka HAUS is within the Sukhumvit 36 vicinity but do note that the entrance is actually from Rama IV Road. The access from a major boulevard allows Sansiri to build high rise for this plot of land.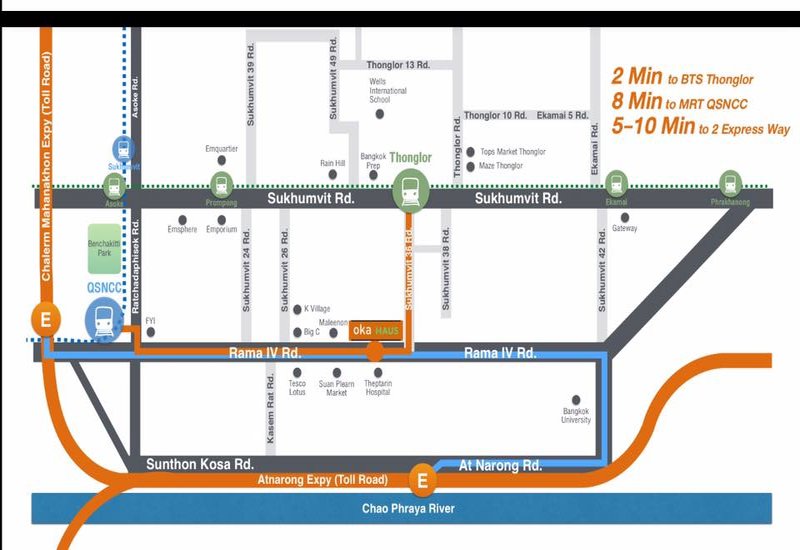 In terms of accessibility, oka HAUS is:
1.2km to Thonglor BTS
2km to Queen Sirikit National Convention Center (QSNCC) MRT
5-10 minutes to Charlem Mahanakhon and At Narong expressway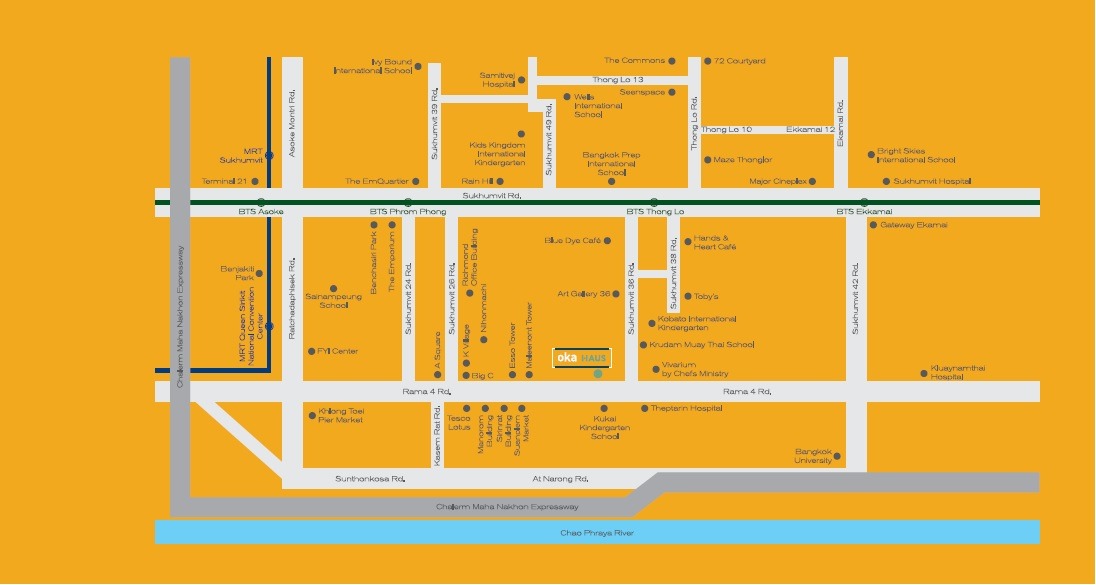 Amenities are well within your reach when you stay at oka HAUS.
Medical Institutions:
Theptarin Hospital
Sukhumvit Hospital
Kluaynamthai Hospital
Samitivej Hospital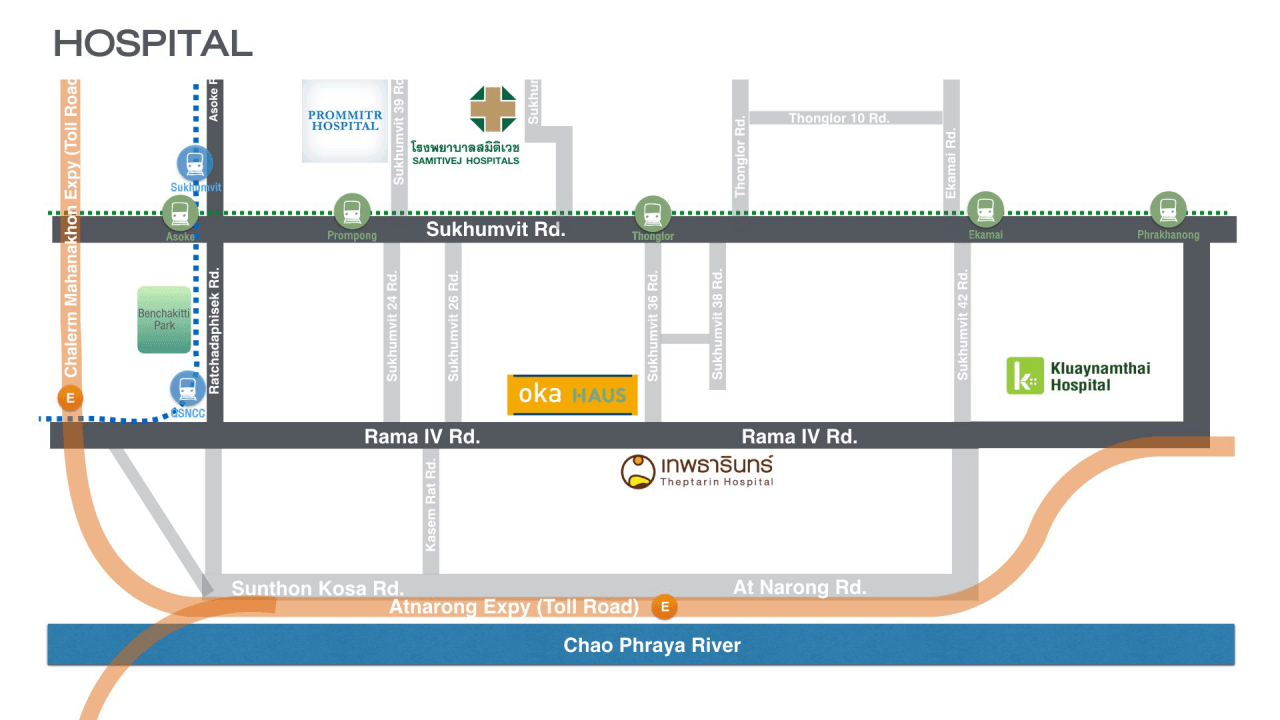 Education Institutions:
Kukia Kindergarten School
Kobato International Kindergarten
Bangkok Prep International School
Kids Kingdom International School
Wells International School
Ivy Bound International School
Bright Skies International School
Bangkok University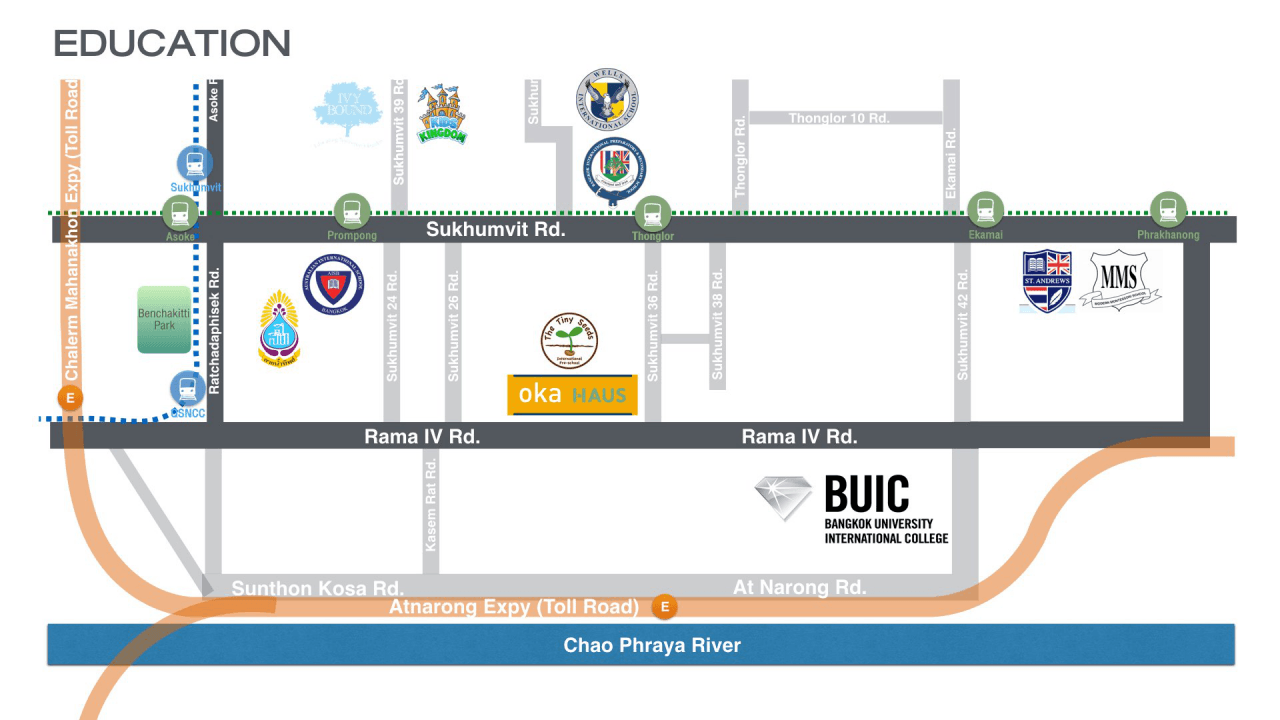 Major Shopping Malls
Big C
Tesco Lotus
Suanplern Market
Rainhill
K Village
A Square
Funarium
Major Cineplex
Bambini Villa (open 2018)
Gateway Ekamai
The Emporium
The EmQuatier
Major Office Towers
One Bangkok (under construction)
TCC Mega Project (under construction)
FYI Center
Sirinrat Tower
Richmond Office Building
Manarom Building
Esso Tower
Green Tower
Maleenont Tower
(besides the existing 26,200 white collar workers, we are expecting an estimated 95,200 more from now still 2021 as new offices are completed)
The Development
Besides location, the number 1 reason why all previous HAUS series sold well was that of the assured quality as well as the facilities and design concepts behind it. Sansiri has spared no efforts in designing a home that would make you the envy of many.
To understand why even the locals queue up for hours under the rain and sun to get their hands on HAUS, we have to appreciate the well-executed design ideas put in place by Sansiri. Let me share with you more.
Reconnect With Nature – Play Space
Completed by an area to strengthen learning skills, the Educational Playground has been designed in collaboration with Samitivej Hospital. Here, children are able to play on the stairs and gently slide down onto the supple grass, giving them the opportunity to strengthen their muscles and decision-making skills, as well as offering a place where inspiration may be garnered in a lush green environment.
Enter With Ease – Welcome Lounge
Experience the elegance of a lobby that draws inspiration from a valley, hewn from the mountains across time by a never-ending breeze to form the perfect space in which to sit back, relax and recharge for the days ahead.
Tranquil Escape – Peace Pool
Release the fatigue in a 40 meter swimming pool, affording unlimited 180 degree views, recline in the garden side Jacuzzi or catch some rays on the Sun Bed under clear blue skies. Children are also able to find their own amusement in a dedicated kids pool.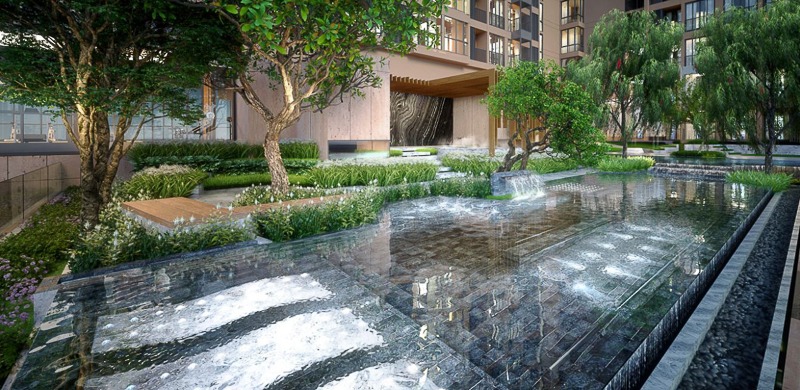 Go With The Flow – Leisure Pool
Discover the advantages of Sansiri's first ever condominium Hydrotherapy pool. Enjoy life complete with Bubble Pool to release the tension in your feet on up. Massage Seat for your back and thighs, Water Curtain for shoulder and back massages through a flowing stream for the ultimate vitality. Walking Corridor to aid stability, and a Spa Bed to lie down in and immerse completely for the ultimate rejuvenation. There is even a steaming Heated Pool to relax the muscles to the utmost amidst the greenery of nature.
Walk In The Clouds – Sky Lounge
Gaze over the horizon and city view from the Sky Lounge on the 47th floor, where you can clear your mind and gain a fresh outlook on life.
The Co-Working Space affords the opportunity to work endlessly with wireless charge stations for phones to carry on conversations without interruption.
The Co-Kitchen is ideal for those looking to unleash the inner chef, utilizing ingredients from the Farmshelf grown using intelligent technology ideal for healthy menus.
Renewal Of Perspective – Sunset Deck
Experience the sky like never before from the top floor of the building, as the sun sets over the river's edge, emanating a feeling akin to basking among the meadows of a valley.
Reach For The Stars – Star Scene Space
As the sun sets over the horizon, the opportunity to while away the hours and relax with an outdoor movie presents itself. Take in the refreshing breeze, akin to resting on the summit of a mountain with the stars so close at hand.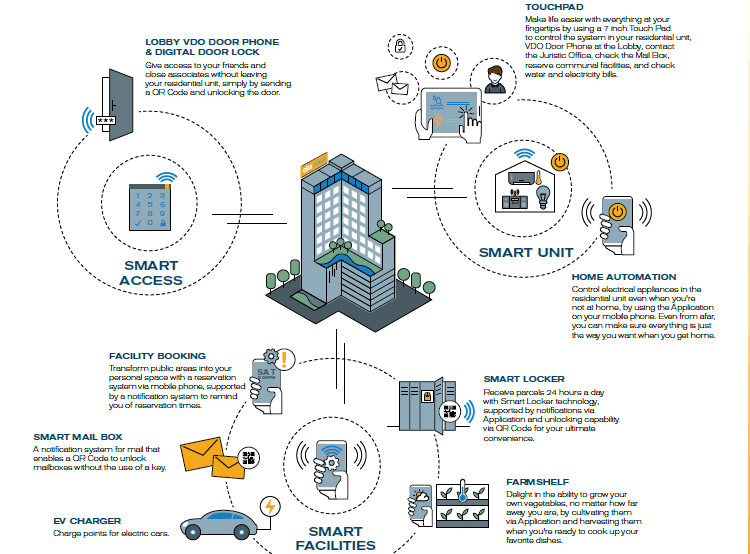 Smart Living Home Automation To Enhance Your Quality Of Life.
Floorplans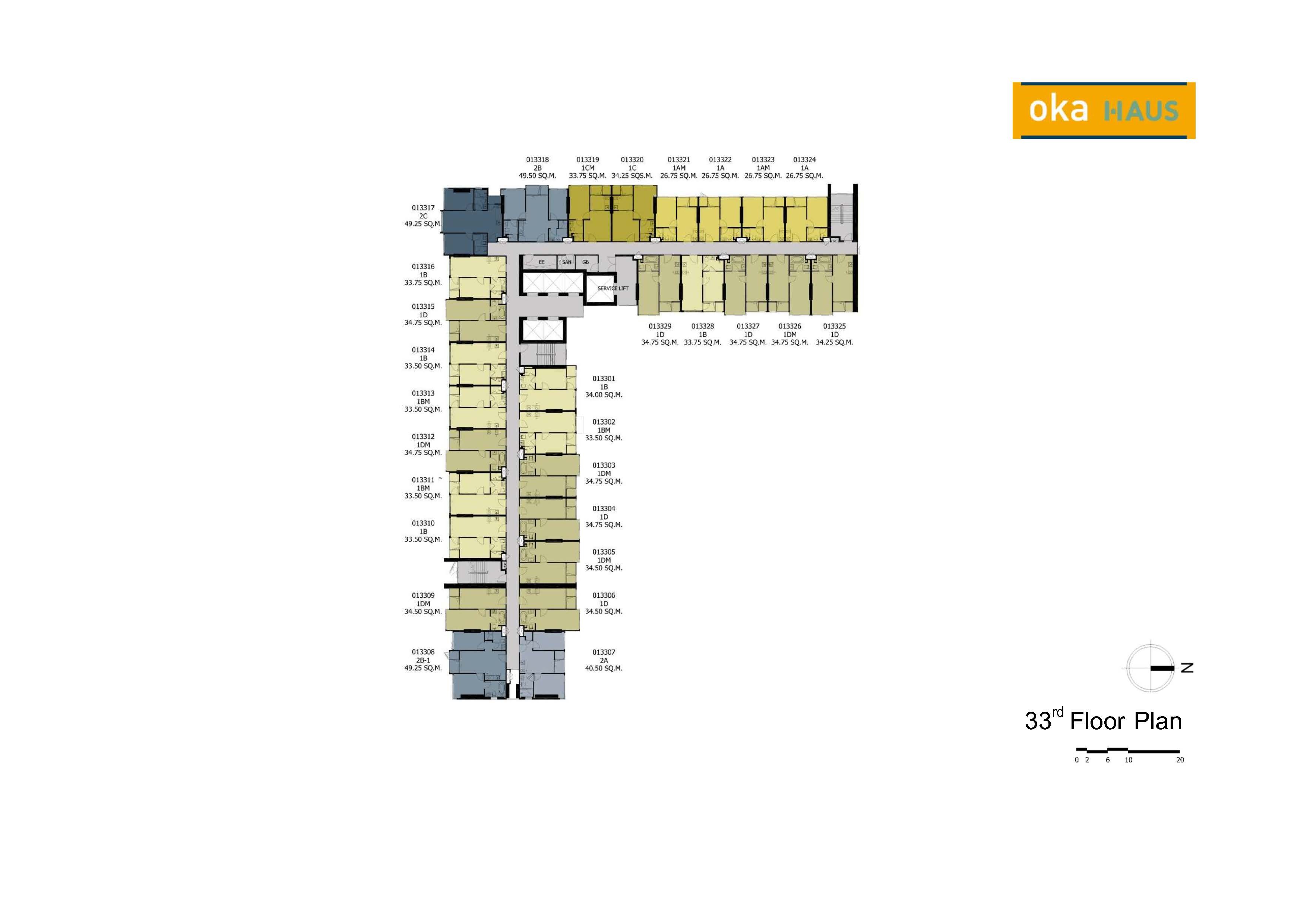 This is a typical floor plan for oka HAUS. The 2 bedrooms units are located at the corners with 270 degree views. The premium facing would likely be the south-facing units where you will get the river view.
The surrounding is generally low rise but there might be 2 buildings coming up on the east and west facing. To be very sure of your view, it is safer to get a unit located on the 30th level and above.
Please note that the unit layout on every level differs. For the full floorplan, you may visit oka HAUS developer sales website to download the floorplans and brochure.
For international buyers, the property will come fully furnished. From my previous experience with taka HAUS, you can be assured that Sansiri fits your property with quality.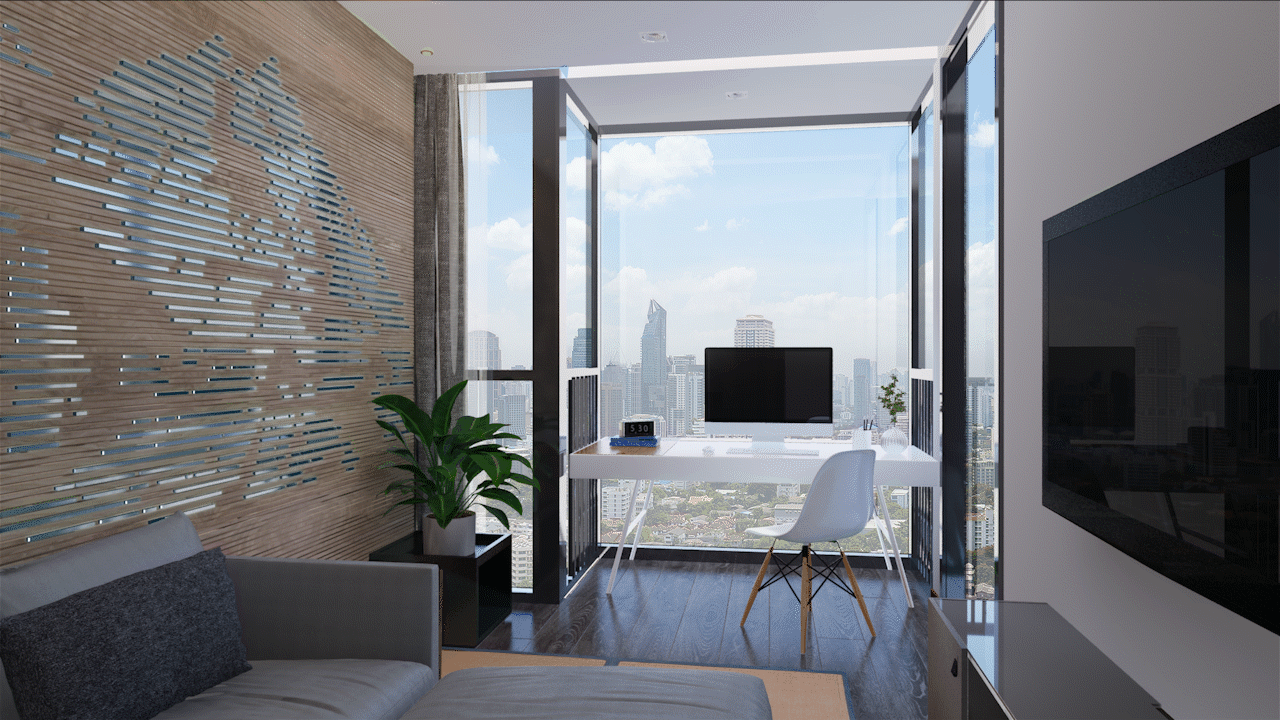 I love this extended glass balcony concept. It simply oozes class and will definitely be an attraction for the urbanites.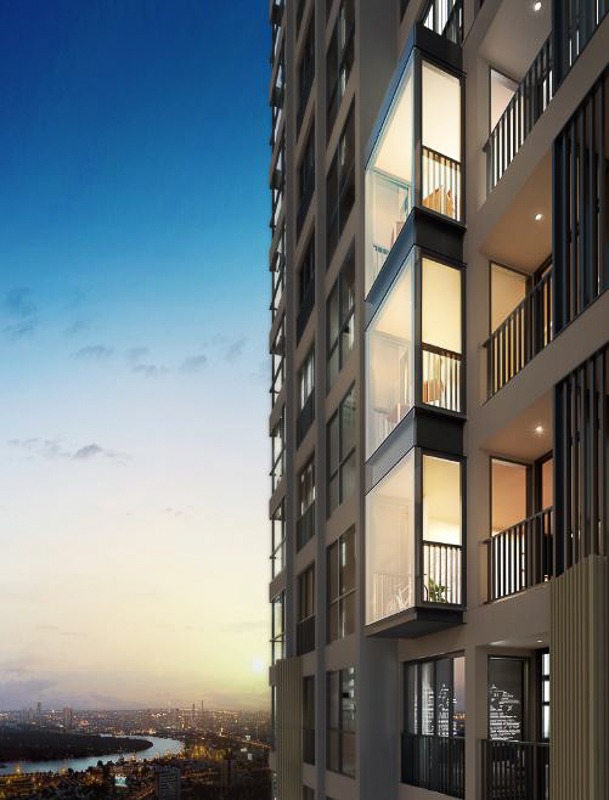 Investment Potential
I believe a good portion of international buyers will be buying for investment.
Who can I rent it to? Is there potential for capital gains? You might ask.
To know if this is the right investment for you, you ought to understand the growth that is happening along Rama IV Road and the neighborhood of Sukhumvit 36-38.
You may read more about it here:
Rama IV Road – Bangkok's "Next Sukhumvit Road"
Sukhumvit Soi 36 – 38: A Good Value Alternative To Thonglor – Ekamai For Investors
Are There Downside To This Investment?
There's no 100% perfect investment property. I believe a major objection from some investors would be the fact that oka HAUS is not within walking distance to any BTS or MRT. So if you are 100% insistent on being next to rail transport, then this property is not for you.
(on a side note, oka HAUS will have shuttle service for the residents to Thonglor BTS)
Secondly, while a lot of changes are happening to Rama IV, all these will take time. In other words, in order to fully reap the reward of the transformation, you have to give it time to mature. If you are in it for the short term profit, then again this is not for you.
oka HAUS is launching globally end November
Pre-sales have already started. And I understand that over in Bangkok, the showroom is packed. At a price starting from 3.69MB*, this is a price point that is very affordable even for the local Thais.
You should consider making your move before all the choice units are taken. The last time Sansiri launched taka Haus, it was 80% sold over 1 weekend.
To register for pre-sales, do visit oka HAUS Sukhumvit 36 official developer sales website.