Getting To Know T77
Born of Sansiri's dream of transforming Sukhumvit 77 into a rich lifestyle hub, the company's latest megaproject development, T77 Community, delivers in spades.
Located on an over-50-rai plot of land in the center of Sukhumvit 77, the project and its surrounding area provide a complete array of lifestyle activities and residential options.
T77 Community is close to both the BTS station and Ramindra – At Narong Expressway.

The Allure Of T77
When I mentioned T77 to the locals, it seems like everyone knows about this place. And people do speak well of this megaproject. From speaking with the locals who stay in T77, these are some of the good things they have to say about the place.
Easy access to either On Nut or Phra Khanong
Very lush surroundings with plenty of landscaping
Double security – because one needs to pass the security of the compound and then the individual condo's security
Big C and On Nut market are just nearby for all basic necessities
There are temples nearby to offer prayers and make merit
Beautiful and serene environment
It does sound like a good place to stay!
Exploring What's At T77
T77 is composed of as many as 5,000 residential units in six Sansiri projects, which anchor this hip mid-town First Japanese residential community with "Habito" Community Mall – Sansiri's first mall project within the same area.The mall has been carefully and lovingly designed to address all of the lifestyle needs of residents, with a fantastic selection of shops and world-famous restaurants, as well as a modern Co-working Space that is most conducive to productivity and creative endeavors.
The "Habito" Community Mall is an upscale lifestyle mall that caters to the residents living in the T77 town as well the nearby population.
Of particular note, the retail and F&B composition will include coveted Japanese brands to entice the burgeoning Japanese population, estimated to be the largest expatriate community in Thailand with over 150,000 people. As this group of people leads fairly insular lives, their needs will be well looked after under one roof. The extensive array of Japanese- centric goods and services will further serve as a magnet for Japanese living outside the immediate catchment area.
Bangkok International Preparatory & Secondary School
One of Thailand's best international schools has also made a much-welcomed addition to the neighborhood.
San Samran Bridge
The San Samran Bridge bridges the canal that runs through T77. It is an iconic feature of the town. During festive seasons, events will be held along the bridge.
Entering into its 5th year, the winter market festival is a wildly popular event that draws larger and larger crowd as each year goes by.
Good Food and Good Fun. It's a spectacle not to be missed!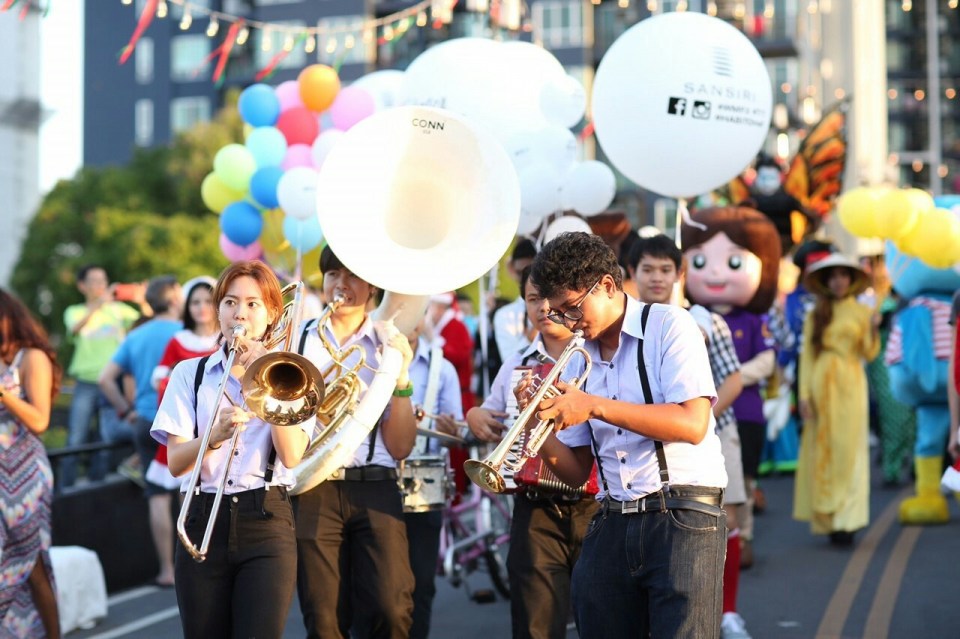 Living In T77
In creating this community, Sansiri has also developed 6 residential projects within T77. These are all very popular with the local Thais. Over in T77 you can find a balance between quality living and not have to pay through your nose for a property in central Bangkok.
Is T77 A Good Investment?
It will be hard to give a straight yes or no. If you have a high investment budget, if you are going for the high-end luxury segment, then you ought to be looking at developments in the core CBD of Bangkok.
I have also met my fair share of investors who no matter what I say, cannot imagine buying something that is not within immediate walking distance to the BTS or MRT.
If you belong to the above category then I say this is not for you.
Often, the biggest challenge for a developing country in South-East Asia is town planning. You may own the shiniest building in the neighborhood but if your surrounding is not well taken care of, it will certainly have an adverse effect on your property value.
That is also the reason why from my years dealing with international property, properties in the township tend to have good genuine demand. Rentability is high.
T77 is a town within a town. As someone staying inside, your immediate surroundings are planned for and taken care of by Sansiri. T77 is a private and peaceful enclave to come home to. You will love it as a holiday home and so will your prospective tenants.
The location is accessible both on Nut and Prakanong, surrounded by rich and varied food sources, both cheap and expensive.
And if you have the chance to visit T77, you will already find an increasing number of expatriates both Westerners and Japanese choosing to stay in this place.
For someone looking for a property with high genuine demand and not having an excessive budget, this is probably 1 of your best option in the vicinity. 
Unveiling Soon in T77… kawa HAUS On Nut T77